There is way more to college than just "staying Christian". God desires for you to flourish in your relationship with Him, not simply maintain status quo.
Spiritual Transitions
Fall is an exciting time of year. It's back to school time and you might find yourself in one of several transitions. Maybe this is your last year of high school, you're just starting college, you have a year or two of college under your belt, or you're done with college and considering grad school or the workforce. Here's the most important question if you are a follower of Jesus: How are you doing spiritually?
Statistics tell us 70% of young adults between the ages of 18-23 stop attending church regularly for at least a year, even if they were active youth group attendees and leaders. Furthermore, only two-thirds ever return to the church, albeit sporadically.[i]
God doesn't just want you to survive college with your faith intact. He wants you to thrive! Ask yourself a couple of questions: Would you deem it a failure if you went through college and didn't grow academically? In the same way, wouldn't it also be a tragedy if you went through college and didn't grow spiritually – or worse yet, lost your faith altogether? The goal isn't to make it to the end of your college career limping over the finish line and thankful you barely made it out alive. The goal is to come out with a stronger faith than when you went in. College can be a deeply formative time in your relationship with God, and it's also a time when many significant moves of God began throughout history.
Do It Again, Lord
Take Yale for example. Yale University has been the birthplace of many revivals over the years. During Timothy Dwight's tenure (grandson of Jonathan Edwards) as the president of Yale, they experienced several moves of God that not only spread to the community, but to other universities as well. For example, in 1802 a spiritual revival occurred that "shook the institution to its center." Of the 230 students enrolled at Yale, about one-third were powerfully converted and nearly half of these went into full-time ministry! Yale experienced 12 similar periods of revival between 1815 and 1841, with the revival of 1831 being very noteworthy as 900 people in the surrounding community of New Haven were converted as well.[ii]
Navigating Transitions
Transitions are a proving ground. They leave you feeling vulnerable, unsure of yourself, and slightly off-balance. They can be disorienting as you chart new territory and pioneer new ground. Like any new thing, transitions are scary and exhilarating at the same time, but in the end there is always a choice. Will you lean into your relationship with Christ or will you trust in your own understanding to get you through?
5 Trust in the Lord with all your heart; do not depend on your own understanding. 6 Seek his will in all you do, and he will show you which path to take. (Proverbs 3:5-6 NLT)
Here are three ideas that will help you successfully navigate this challenging but important transition:
1) Choose the right friends. I've heard it said, when God wants to bless us, he brings someone into our lives, and when the enemy wants to hurt us, he brings someone into our lives. The Scriptures tell us that "Whoever walks with the wise will become wise, but the companion of fools will suffer harm" (Proverbs 13:20, ESV).
Who you surround yourself with will in large part determine your trajectory throughout college, so choose wisely. One of the best ways you can do that is to find a great campus ministry. That way you start with a pool of people who share similar passions and convictions. Don't wait to find like-hearted people who will partner with you in your walk with Christ. Do it now.
2) Be rooted and planted in God's house. Though I love campus ministries, plugging into a vibrant campus group isn't enough, and your campus ministry shouldn't be a replacement for a local church. Sooner or later, you will graduate college and begin a much longer phase of your life. It's called adulthood. In this phase of life, the church – not a campus ministry – will become the major vehicle of spiritual growth and relationships in your life. Why not learn how to navigate church while you are in college? Where else can you find grandmas and grandpas, moms and dads, married couples, and single young adults in the stage of life where you will soon be?
Picture the local church as a greenhouse. In order for trees and plants to flourish, they need the right soil and have the right amount of water and sunlight.
12 The righteous shall flourish like a palm tree, He shall grow like a cedar in Lebanon. 13 Those who are planted in the house of the Lord shall flourish in the courts of our God. (Psalm 92:12-13 NKJV)
I came to Christ in college but I really didn't grow that much. Why? Because I didn't connect with a vibrant local church. After college, God led me to a great local church and guess what? I flourished.
3) Don't put your relationship with God on the back burner. Your relationship with God is the most important thing about you. It defines you. You are a child of God. He is your Father. What could be more important than that? This is your highest identity. If you are going to thrive in the transition from high school to college and beyond, your relationship with God needs to be a priority, more than school, extracurricular activities, or anything else.
I am the vine; you are the branches. If you remain in me and I in you, you will bear much fruit; apart from me you can do nothing. (John 15:5 NIV)
Not only is your identity found in your relationship with Christ, but it is the source of anything of eternal value that comes from your life. As you hang out with God, fruit will grow from every branch. Let this sink in: our highest call is not to do for God; our highest call is to be with God.
The Transition Book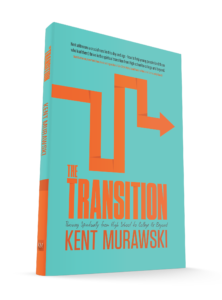 This is why I wrote the book, The Transition: Thriving Spiritually from High School to College and Beyond. God never intended for you to survive college. He longs for you to thrive through this and every other transition.
In The Transition, I unpack practical lessons as well as deep spiritual truths to help you flourish as you move from high school to college and beyond. You will be equipped to:
Understand how God has stirred young people throughout history to bring spiritual awakening
Build a strong foundation by going back to the basics
Discover who you are in Christ
Develop healthy relationships that will help you on your spiritual journey
Grow in practical wisdom needed for this stage of life
Find and fulfill your purpose
Get Chapter 1 for Free!
The book will be available for pre-order in November. To get chapter 1 for free as well as the latest updates on the book, subscribe to my blog.
Those who pre-order the book (and email the receipt to kentmurawski@gmail.com), will receive several helpful resources, including:
Rest Assured: Seven Days to Sanity, Stillness and the Sabbath You Need (e-book)
Video interviews with three top leaders of this generation, including:
Jonathan Burgio – director of BASIC College Ministries
John Decker – director of Believers College Prep
Tommy McGreggor – author, speaker, and veteran transitions coach
Happy Transitioning!